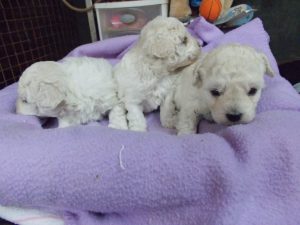 If you're looking for a reputable color bred red or color bred white Toy and Teacup Poodle Breeder, then Lowry Toy Poodles of Alabama is the place to go. We offer a wide selection of adorable puppies for sale from our location in Alabama, although we provide nationwide shipping.
For many years, we have bred toy and teacup poodles from champion bloodlines, creating gorgeous red and white puppies. Once they're born, we provide our puppies with the love they deserve and make certain they receive top-notch care to insure their health.
Also of note, we are an AKC breeder, meaning we're recognized for having a sterling reputation and for breeding premium puppies.
Teacup Poodle puppies are beloved due to their delightful personalities, companionship and loyalty. They are the ideal pet for individuals, couples and/or families.
If you have any questions whatsoever, please contact us today.