Who we are and what we do!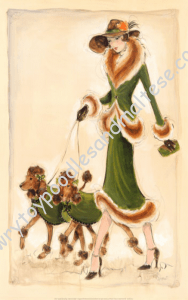 Welcome to Lowry Toy Poodles and Maltese. We are a small kennel located in Alabama and have been breeding Tea cup poodles, Tiny toy Poodles, Toy Poodles for over Thirty years. We are a recognized AKC breeder in good standing and are proud to spread our puppies genetics all throughout the United States.
We specialize in Color-breeding our Poodles to produce a true color through five generations, our whites are Icy-white and our Reds are deep reds. I also have Silver toy or teacup poodle puppies for sale from time to time. "I do not breed designer pups" Only purebred, registered Poodle pups.
Our adult poodles weight from four pounds to eight pounds. We only breed Tea-cup, Tiny toy and toy poodles.
We have worked very diligently to produce sound beautiful quality pups with sound bones, excellent temperaments and good dispositions. Raised underfoot and well socialized to adapt to your home environment.
Our puppies are vet checked and tested before they are sold and leave with a health certificate.
Shipping and Delivery:
A $500.00 non-refundable deposit is required to hold a puppy until the shipping arrangements can be made. The balance is due prior to shipping.  Ground shipping is avaiilable and flight nanny if needed.
Puppies are sold in the order of the deposits received. Puppies are shipped from Atlanta International Airport puppies are shipped Counter-to-counter which ensures safe shipment whenever weather can be of concern. If you are concerned about shipping your puppy We offer a courier service to surrounding states for an additional fee. We ship within the continental United States.
Also included with Shipping: Health Certificate, flight cost and checkup by a licensed Veterinarian, Fresh grooming, and shipping carrier which is your to keep.